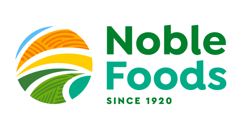 Ioana Pasalan
Machine Controller - B Shift – Production
"I really enjoy working here, I feel like I grew up here."
Where are you from & where did you grow up?
I am from Romania, I grew up in the countryside until 15 years of age in a place called Giurgiu. I then moved when I've started high school, to Alexandria.
When did you join Noble Foods?
I started to work for Noble back in July of 2015, as Production Operative on bed end.

What do you like about working for Noble Foods?
Firstly, I want to say that I really enjoy working here, I feel like I grew up here. I like that everyone is treated the same, and I like that every day is different. And I like that at the end of the day I can say 'I've done it and was ok'.
What does a typical day at work look like for you?
Usually very busy but with a big satisfaction at the end of the shift when I know that everything was achieved and controlled. I start my day at 05:30 am, talking with the planner to see the requirements for the first hours, taking the plan from him and sharing it with my colleagues from De-nester, bed end, and the robot room area, as well as the operative from MR 50 (the robot which is taking the eggs in the loader). I then set up the machine with the product that we need to start, usually, this setting is as per plan, but if I know that a change could make a better outcome, I then inform the planner and make sure he understands the reasons. This is what a day looks like, just in between running the machine, I also need to make sure that everything around the Production area is working and that we have all the packaging ready for the next run and giving any support to my Shift Managers or Production Manager.
What is it like working in a packing centre?
Is quite busy but when a team is formed, even a hard day can be a good day at work, a place where you feel happy to work.


What do you enjoy the most about your job?
I feel like my job is the place where you need to be the most organised, responsible and careful throughout all the different stages. I am a very organised person and I feel that by doing this job I can show my skills and do better every day.

How would you describe your team/colleagues?
Very nice, friendly and hard working.

What's your moto in life?
I am trying to follow this quote as much I can: "One day or day one. It's your choice".