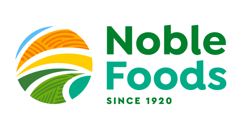 Elsa Monteiro
Ungraded Manager – Warehouse
"Sometimes we have a busy day working flat-out nonstop, but you get towards the end of day and realise that all the team has achieved the daily goals, it satisfies me seeing that with all of us working together as a team, we can beat any complicated day and that's my reward."
Where are you from?
I was born in Lisbon, Portugal. As a 13-year-old with my parents I moved to Porto. In my early twenties, I decided to pursue a new career, so I decided to move to England.
When did you join Noble Foods and who were you back then?
I Joined Noble foods (Dean's foods at the time) on the 28 of May 2001, I was in a relationship with my now husband, and joining Noble foods became my first job and here I still 21 years after.

What do you like about working for Noble Foods?
Work for Noble Foods means being able to work in an environment where I feel satisfied in my position, and what I do allows me to work at my best. Noble Foods is a good company with a lovely environment, with vast opportunities to anyone who is willing to learn and develop new skills across the business, where myself and my co-workers feel at the similar level of jobs satisfaction. Noble Foods allow everyone to grow, equal opportunities.
What do you enjoy the most about your job?
Versatility of being able to do a variety of tasks, be able to support my team, work collaboratively with staff, see them growing and be successful. I enjoy the journey, new challenges, Autonomy, the joy of helping others.
How would you describe your team/colleagues?
Helpful and dedicate, Friendly, easy-going, considerate, and hard workers.
What is Your motto for life?
My mentor always refers to this quote and is definitely my motto in life …
"Whether you think you can, or you think you can't - you're right." Emphasis how much attitude determines success or failure. this is because so much of it is based on attitude.